I have long been fascinated with the traditions and artistic ritual of New Orleans and this is why I chose to go to Louisiana in January of 2017. The more than 30 portraits I painted while I was there are both an homage to the city's inhabitants and a window into contemporary New Orleans.
jan 29
Portrait of Deacon John Moore, a famous musician of blues, rythm & blues and rock & roll, singer, actor, and bandleader.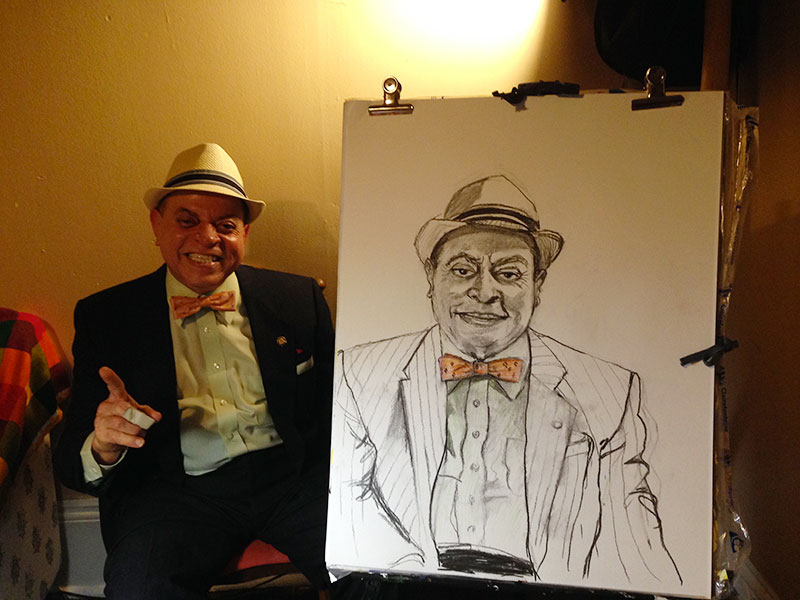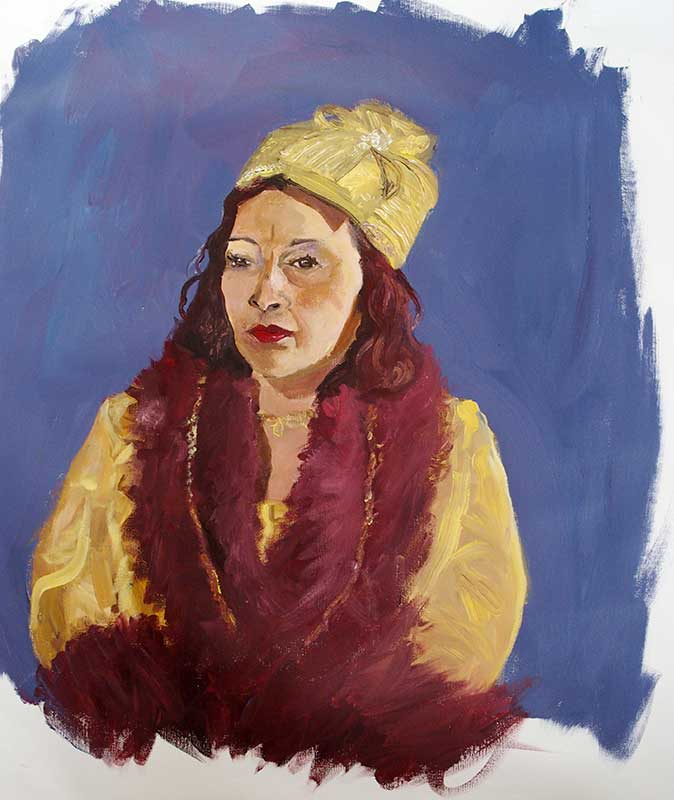 jan 28
Portrait of Anita, a second line "baby-doll".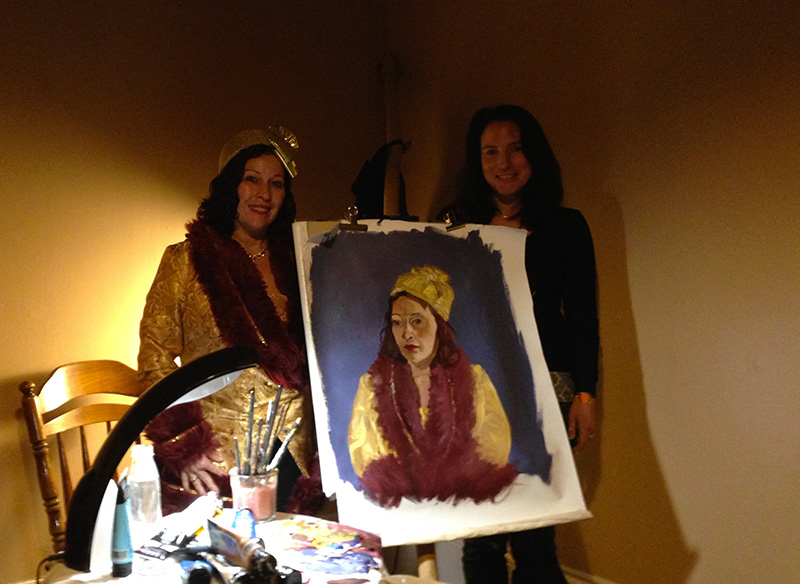 jan 25
Portrait of the artist Nat Williams the plug at the barber shop.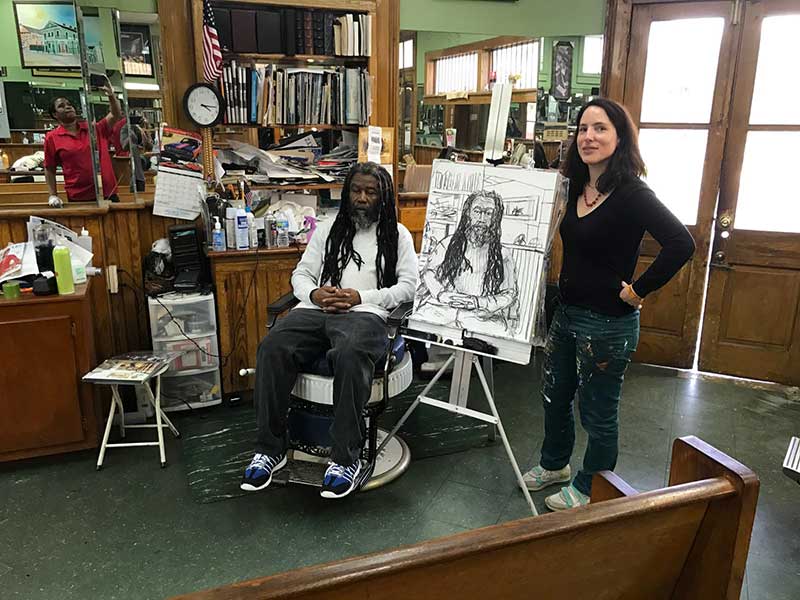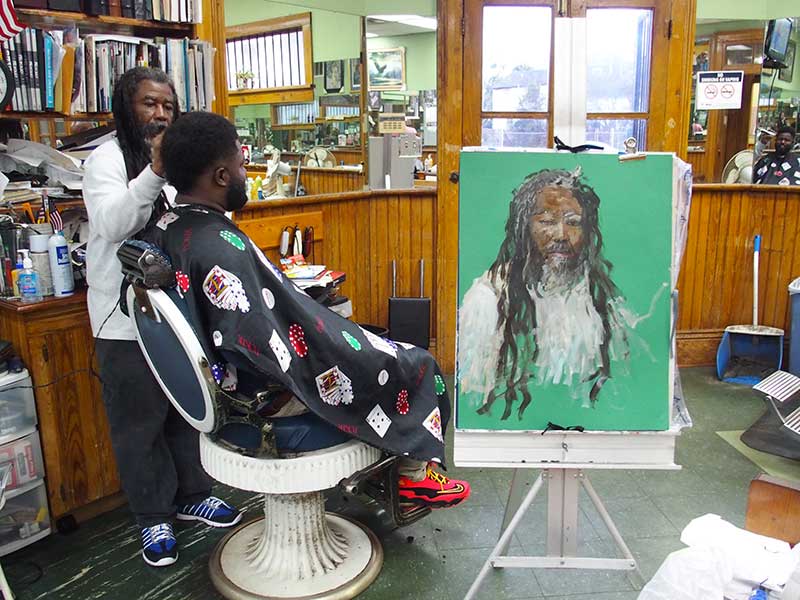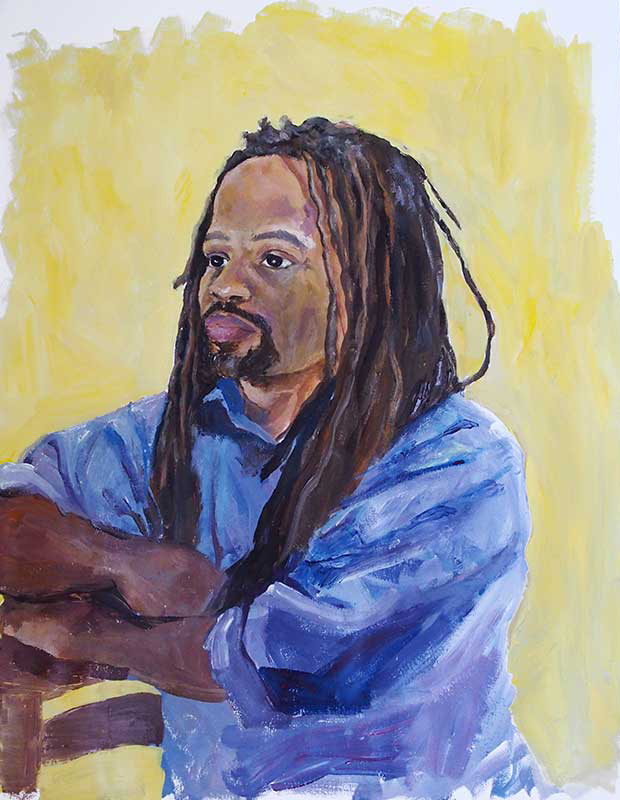 jan 23
Portrait of visual artist from New Orleans Ronterin Ratliff. His work is on the city of New Orleans, the memory & history of the city but also more personal subjects.
[/vc_column]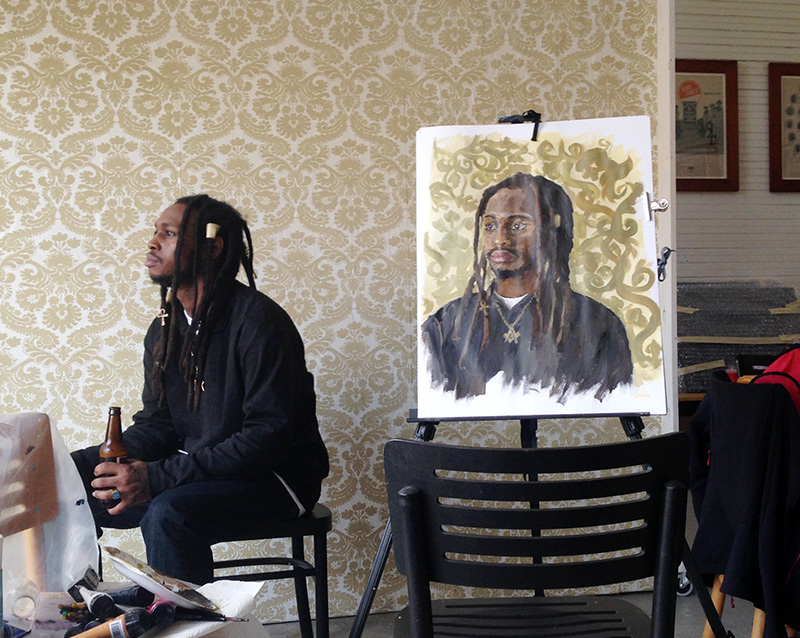 In their book Between Piety and Desire, brother and sister team Arlet and Sam Wylie talk about their regular and irregular life living above a neighborhood store. They remember a childhood of parents keeping them inside to avoid the struggles of the neighborhood around them. They interview the people who hang out on the block, weaving the history of the street through their own history living upstairs.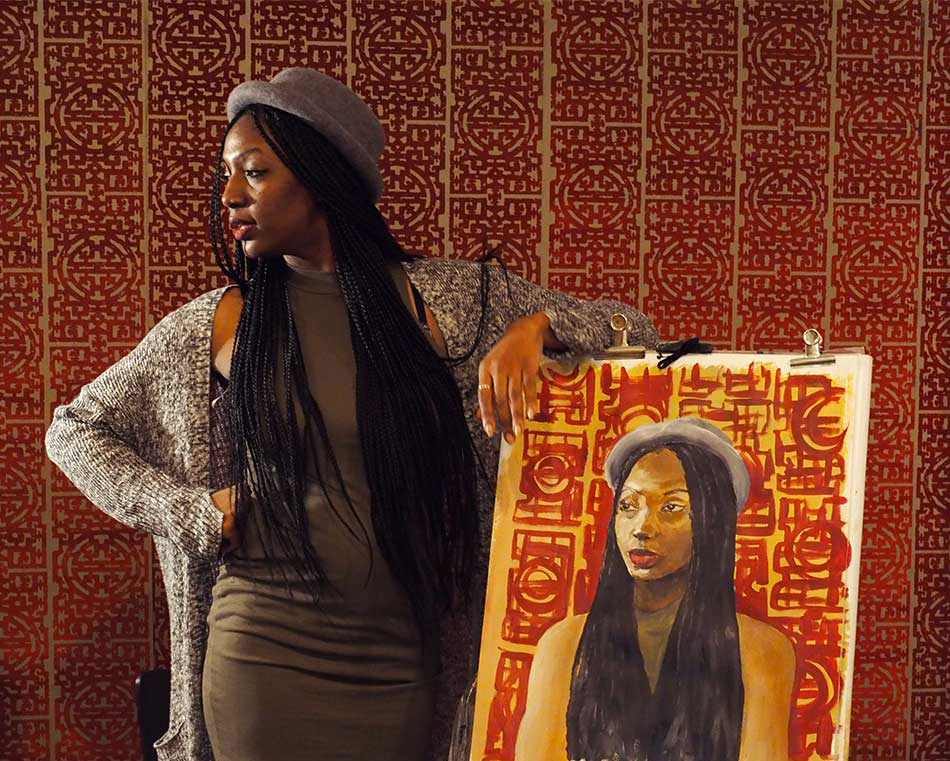 Jana Dennis examines one the most diverse blocks in New Orleans in her book, Palmyra Street. Located in the heart of Mid-City near the new Streetcar line, her block of Palmyra is rich with many typical and not-so-typical New Orleans stories.  The reader watches Jana's family construct community not only on their block, but also through their participation in church life and the Golden Arrows Mardi Gras Indian Tribe.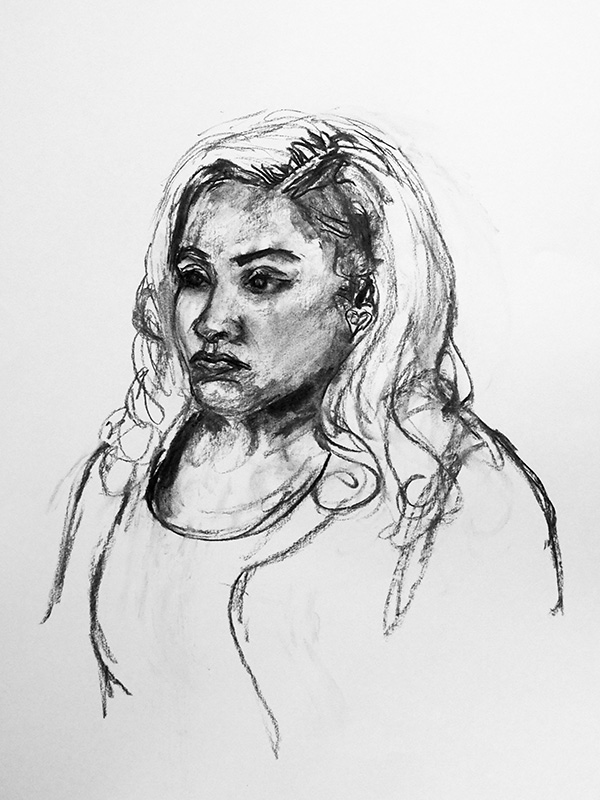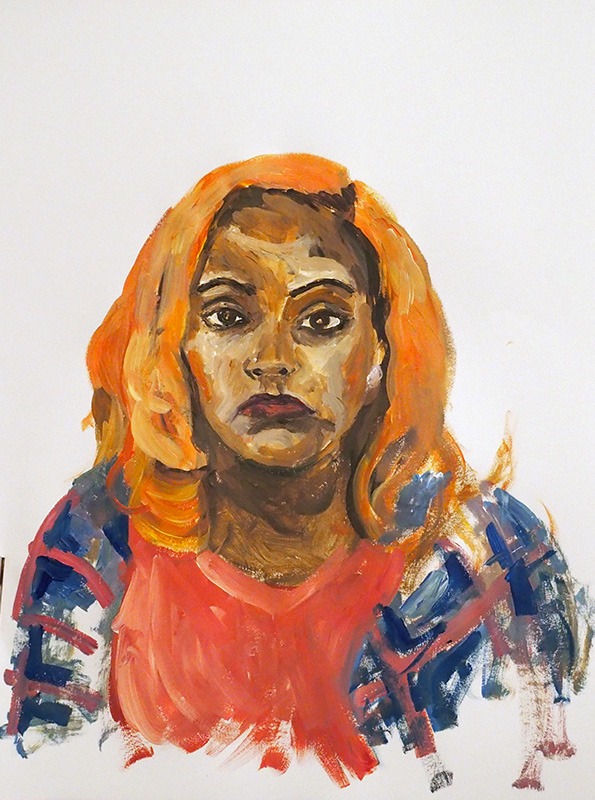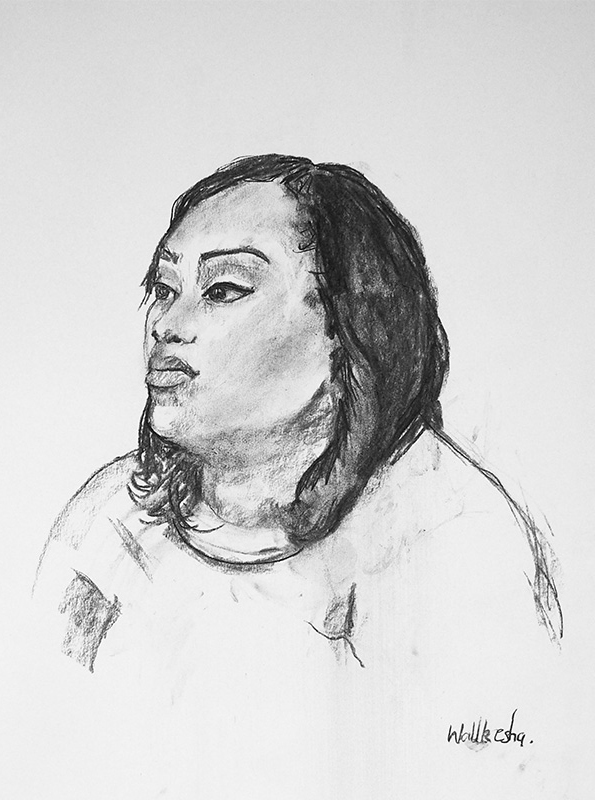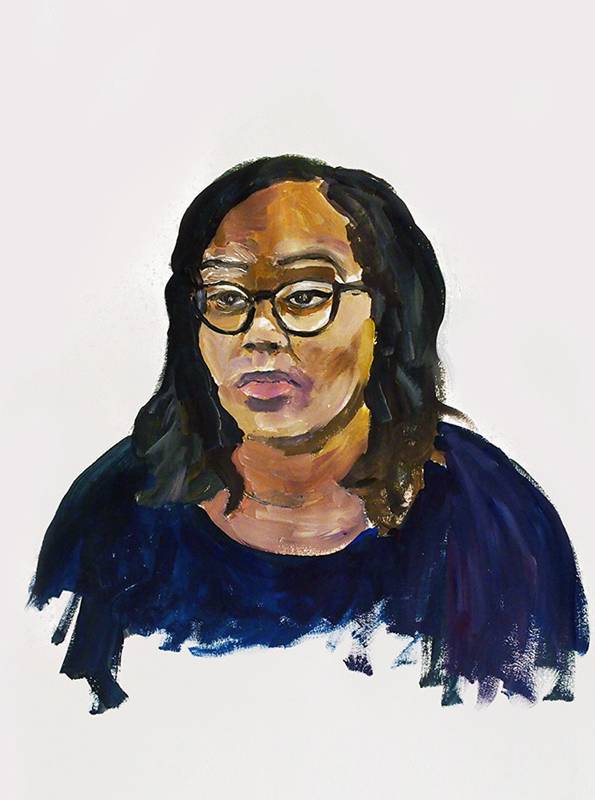 Jan 19
Yesterday, I went to the non-profit organization the Neighborhood story project  to meet its director, Rachel Brunlin, who organized 2 portrait sessions for me with avec Ebony and Waukeesha, two members of the organization.
Ebony, Waukeesha, Sam, Arlet and Jana participated in creating books for the organization and it was the first time they saw each since they had last worked together 10 years ago.  
In her book  Before and After North Dorgenois, Ebony Bolding examines life in the Sixth Ward. She talks to her neighbors on North Dorgenois, interviewing newly arrived doctors, members of the church on her block, and a neighbor who has returned to the block where her mother grew up. From her porch near John McDonogh Senior High, she looks at the ways the block is changing, and writes about her mother's decision to move the family deeper into the Sixth Ward after a new landlord buys their house. She interviews the new landlord and discusses life in the Sixth Ward with the Bayou Road Boys.
Waukesha Jackson's book Stories from the 9th Ward is an examination of loss and recovery. Starting with her relationship to her mother, Ms. Jackson writes about the struggles that have been a part of many of the lives of women in the Ninth Ward. In particular, she examines the frequent role of women as caretakers of the community
The Neighborhood Story Project is a collaborative ethnography and publishing organization in partnership with the University of New Orleans. Since 2004, they have worked with public schools, grassroots organizations such as benevolent associations, community museums, Mardi Gras Indians, and other institutions to create books and other printed material that supports our mission: "Our stories told by us." Their goal is to help people be the authors of their own stories in ways that will create relevant literature, and shares the profit both social and economic capital that comes from the booksales.
Their two best sellers come from communities in New Orleans' Ninth Ward, inundated during Hurricane Katrina, and forced to contend with detrimental media coverage about the neighborhood during the rebuilding process.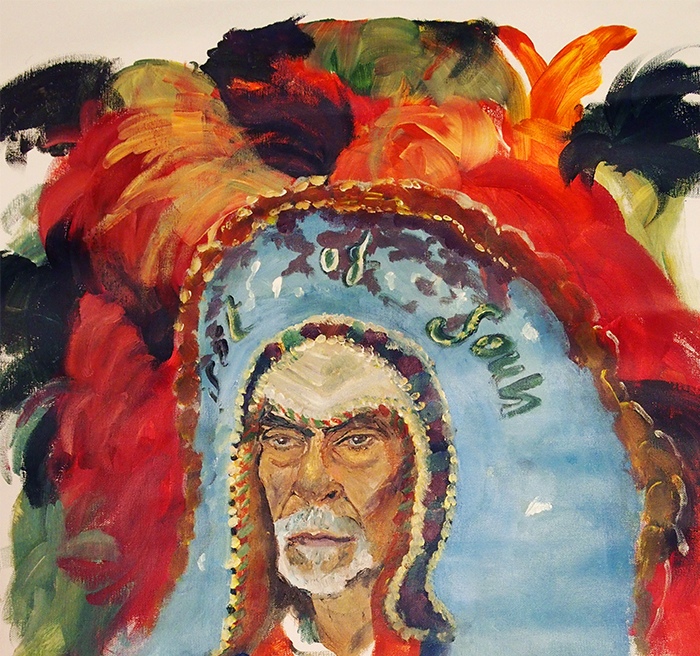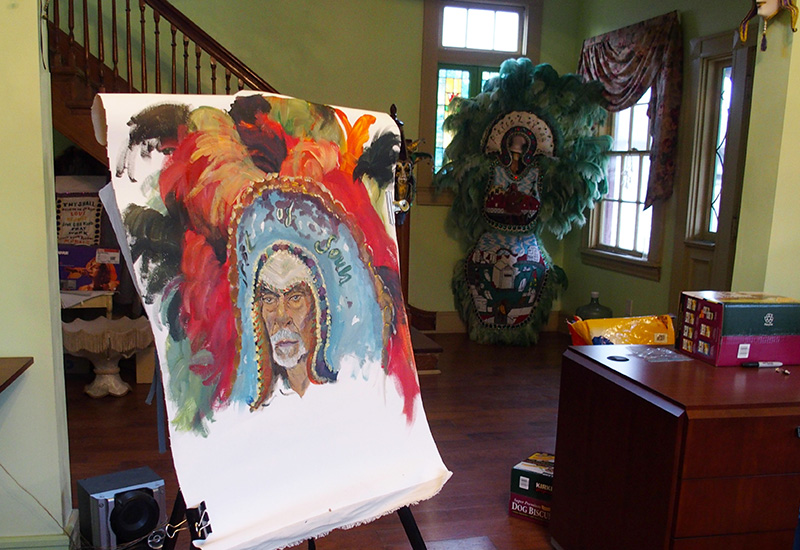 I then realized a portrait on canvas with acrylic, it was hard for the chef to hold on with this huge headdress that weighs a lot.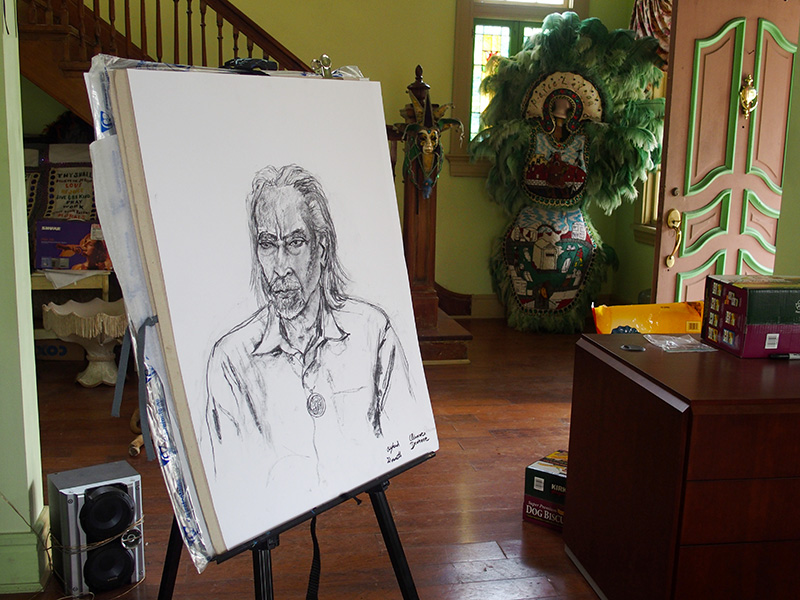 Jan 19
I went to make portraits of the famous chef Alfred Doucette, a mardi gras indian big chief at his home yesterday. Everyone knows him in New Orleans and beyond. I began by making a charcoal portrait without his costume. Alfred Doucette signed the portrait too.
Mardi Gras Indians are Black Carnival revelers in New Orleans, who dress up for Mardi Gras in suits influenced by Native American ceremonial apparel. Collectively, their organizations are called "tribes". There are about 38 tribes. The Mardi Gras Indians reflects both a vital musical history, and an equally vital attempt to express internal social dynamics. Mardi Gras Indians have been parading in New Orleans at least since the mid-19th century, possibly before.
The history of the Mardi Gras Indians is shrouded in mystery and folklore. During the 1750s, many African slaves fled to the bayous of Louisiana where they encountered Native Americans. Years later, after the Civil War, hundreds of freed slaves joined the U.S. Ninth Cavalry Regiment, also known as Buffalo soldiers. Mardi Gras Indian suits cost thousands of dollars in materials alone and can weigh upwards of one hundred pounds.